From sawing to turning, our experienced operators can reliably craft your prototype or high volume parts. We partner with our customers to find practical solutions to their machining needs.
Projects range from submarines to the St. Louis Arch. We fabricate components out of all types of metals and plastics to exacting customer specifications.
Need a quote, let us know your requirements and expect to work with ownership to get the best price and a quote you can trust. No hidden fees or surprises.
We can accommodate just about any shipping/freight requirements, including Just-in-Time delivery and warehousing.
No chasing an unresponsive salesman. Our customers deal directly with the owner manager of our family operated company, which was founded in 1923.
Need something right now? In many cases we can bring your parts into production the same week we have your specifications. Let us earn your business and challenge us!

NTMA Member
National Tooling and Machining Association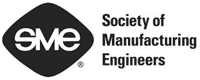 SME Member Benefits
Society of Manufacturing Engineers
As a family owned and operated shop, anything we invest time and money into needs to benefit our customers. Implementing best practices, collaborating with top shops around the country and learning from innovators in machining improves delivery times, precision and efficiency.
Printing Industry: Stabilizing Bushing
In the printing industry vibration can damage equipment as well as compromise production quality. We work with OEM and companies servicing equipment to provide replacement parts.
Medical Industry: Stainless Instruments
Exacting standards and reliable delivery is highly valued by our medical/pharmaceutical customers. We produce consumable products as well as components for equipment, research and diagnostics.
Vending Industry: Threaded Linkage
We have produced parts for some of the largest manufacturers in the food service/refrigeration industry. We have manufactured a vast array of parts ranging from spacers and precision gauge components to clips and pins.
Making the Parts that Move the World Since 1923